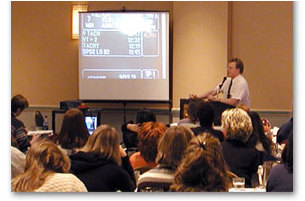 Adams Brothers Communications offers ICU training for rehabilitation professionals across the globe. The courses can be found at hotels or we can come to your facility.
(please see the hosting details below).
If a facility decides to host a course it may be limited to an organization's staff or opened to the public.
All courses opened to the public, whether at a hotel, hospital or school can be located by clicking below.

Bring us to your hospital or school
Adams Brothers Communications now offers all four of our ICU courses at your hospital or school. Bells & Whistles(SM), Dysphagia & Diets(SM), Hands-on Tone Management(SM) and Telemetry(SM) can be kept in-house (just your organization's staff) and/or you can open the course to the public (therapists outside your facility can attend). The speaking fee is $2750 (hotel accommodations and travel are extra) for each continuing education day for all of the courses.
The new Bells & Whistles(SM) course covers the same topics offered in our internationally renowned Bells & Whistles(SM) course except that documentation, treatment ideas, and hospital beds replace speaking valves, augmentative alternative communication, and splinting in the course outline.
Download a typical school/hospital schedule in a .PDF format
The new Bells & Whistles(SM) course is taught by a board-certified cardiovascular and pulmonary clinical specialist Physical Therapist who has taught the course internationally for over fifteen years. The course has a multidisciplinary structure and each of the topics has relevance for Occupational Therapy, Physical Therapy, and Speech-Language Pathology. This course is $5500 for two days (hotel accommodations and travel are extra). Please call 877.ICU.CLASS for more information.
If you are interested in hosting a "Bells & Whistles(SM)" course at your hospital please call 877.ICU.CLASS or e-mail us at Contact Us and we will be glad to provide you with more information.
Potential Perks
You can make a profit off the course if you invite enough outside therapists. Often 15-17 outside therapists attending can cover the costs of the course.
Some facilities will use the course to recruit therapists.
Not paying for staff travel expenses or additional educational days in order to travel.
Finding Acute Care continuing education is rare and this class can really improve the comfort, safety, efficiency, and competency of the staff and reduce your liability.
The written competency can be presented to the State Health Department or JCAHO to demonstrate additional training in a high risk, low frequency area.
Many facilities across the country are trying to become "Magnet" hospitals and they look positively towards the additional rehab training in the ICUs.
Hospitals/Schools are responsible for the following:
Providing a lecture hall or auditorium with space for desired number of attendees. We can comfortably manage presentations for up to 50 people, and with additional preparations up to 75. The Bells & Whistles(SM) course may require additional space for lab sessions.
Providing AV equipment needed for the conference: An overhead projector, two overhead screens, podium, cordless lavaliere microphone, cassette tape player (that can be heard throughout the lecture hall), and two AV tables to hold the overhead projector and a video projector (Adams Brothers Communications can assist with providing the video projector, if necessary).
Providing a continental breakfast and afternoon snack for course attendees, if open to public.
Providing five (5) six foot tables in the room for labs and demonstration pieces.
Providing advanced notice of facility needs, e.g. locations, times and directions.
Obtaining a reasonable business rate from a local hotel for overnight guests/attendees. Provide transportation to and from the lecture facility for overnight guests at the hotel. Hotels often provide local transportation for free for their guests.
Obtaining all licenses, permits, or approvals needed to have the course presented at their facilities.
Registering the attendees.
Advertising, as needed.
Providing handouts and other course related materials.
Adams Brothers Communications is responsible for the following:
Presenting the course. The different courses will be presented by either an Adams Brothers Communications Physical Therapist, Occupational Therapist, or Speech Language Pathologist. The Bells & Whistles(SM) course is taught by a Board-Certified Cardiovascular & Pulmonary Clinical Specialist Physical Therapist.
Adams Brothers Communications is an approved provider of continuing education for the AOTA and ASHA (One of only a handful of live continuing education providers to have both in the country). This provides OTs/OTAs and SLPs/SLPAs the opportunity for CEUs in most states. The APTA does not have an approved provider program, hence CEUs for PT/PTAs are approved at the state level. The method in which PT/PTAs can obtain CEUs varies enormously by state. Adams Brothers Communications will meet the requirements so PT/PTAs can obtain CEUs in the state in which the course is being held.
Place course information on AOTA.org, ASHA.org, & ICUclass.com web sites for interested parties to find, if the course is to be open to the public.
To provide the materials needed to host the course, in a time frame prearranged by both parties.

To provide the course manual, handouts and other course related materials.

The Pre/Post test, the "Bells & Whistles(SM)" course manual (around 250 pages), the optional ICU competency and the 34 page Precautions/Contraindications booklet are usually sent one month in advance of the course dates. This time frame can be altered if advance notice is provided by the host.
The Certificate of Attendance. The host will need to input the names of the attendees.
"Things to Remember" sheet.
The Course Brochure – in Microsoft Word format. The host will need to input the specific details of their course.
Meals for Adams Brothers Communications Inc. staff are paid for by Adams Brothers Communications Inc.