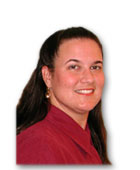 Iyna Adams OTR/L, CPAM, CLT
Education
Baccalaureate of Arts in Liberal Arts, Pennsylvania State University.
Baccalaureate in Occupational Therapy, Thomas Jefferson University in Philadelphia, 1992.
Summary of qualifications
Iyna has worked at teaching and trauma hospitals, including Johns Hopkins-Bayview, Union Memorial (Baltimore), and Washington County Hospital. Iyna has lectured at hospitals and conferences across the country, including the "Bells & Whistles"(SM) course nationwide since 2001. Iyna also spent several years as a traveling Occupational Therapist during which she learned a variety of techniques used in ICUs nationwide. Her extensive background in Occupational Therapy translates into sound evaluative and treatment advice. Iyna has served as the chair of the Maryland Board of Occupational Therapy Practice.